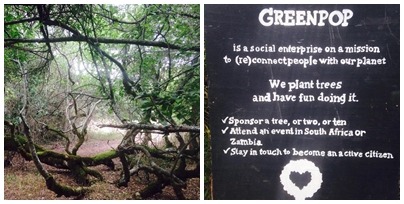 I have always wanted to attend the Greenpop Family Festival at Platbos Forest Reserve, and finally this year I got around to it. It was wonderful! This festival is all about bringing kids and adults closer to nature and to foster a better relationship with the natural world around us. There is also a Greenpop Friends Festival that takes place at Platbos a couple of weeks later, and this weekend draws more adults, even though children are allowed.  Greenpop is an organisation that plants trees and educates people about best practice tree care in many different areas in South Africa and Zambia, and in March they were reforesting at Platbos Forest Reserve.  This ancient, wizened forest still exists for the enjoyment of all because of the green fingers and passion of special people.  You can visit Platbos all year round, or even better; book your extra special GreenPop experience for next year!
Volunteers who attend the festivals spend a day planting trees, and during the weekend there are a lot of interesting talks, workshops and other fun activities to participate in.  Unfortunately I could only attend on the Sunday, but we had so much fun that I would definitely recommend spending the whole weekend! This year, 437 happy campers descended on Platbos to take part in planting and festivities.
Festival goers usually bring their own tents and camp in demarcated areas, but it is also possible to rent a tent at the festival.  Those who prefer not to camp may choose from a variety of self-catering options at Platbos and a variety of establishments nearby.
Friday evening is all about setting up camp and settling in.  There is a food court with a selection of food trucks and vegan vendors that provide fresh, delicious meals.  The Family Weekend provides the option of a catered Meal Plan ticket that provides 6 vegetarian meals throughout the weekend (Friday dinner through to Sunday lunch), but this option has to be purchased in addition to the festival ticket. Meals are prepared in the common kitchen for those on the Meal Plan and the meals looked utterly delectable!  No self-made fires are allowed in the camp, so there are no cooking facilities, and campers can choose between the food plan and purchasing food from the vendors.  Boiling water is provided free of charge.

Friday evening is very relaxed – think crackling campfires and gentle tunes, reconnecting with old friends and making new ones.  People with musical instruments are highly encouraged around the campfires, and other fun stuff such as hula-hoops, drums, mad hats, crazy outfits and face paint help to create a really fun atmosphere.  Mornings start with a yoga session open to all.
Images courtesy of Jay Badenhorst (47 Sundays)
Saturday is action packed and thousands of trees are planted by teams in different areas around the forest to help restore the very rare and delicate ecosystem. This year they planted a total of 2,420! At around 16:00 the planting is done, and teams head back to camp for a shower, tasty food and a forest party to celebrate! Great musical acts are lined to perform on the intimate main stage and a talent show provides many awesome moments.  Everybody loves this celebration and there is plenty of entertainment for old and young. We arrived early on Sunday morning when the camp just started to wake up and started the day with delicious freshly pressed fruit juice and a vegan burger from the food trucks.  At the common area a delicious looking breakfast was being served to those who booked the meal option

and we were more than a little jealous!
During the morning we were entertained by a variety of interesting talks – I attended one on bees which I found particularly fascinating.  There is a range of workshops for old and young – my 11 year old did the Improvisation workshop and loved it.  There were also guided forest walks and yoga classes, and the meditation session under the 1000-year old Milkwood tree was the best!  Kids are also kept busy with a variety of activities ranging from woodcarving to beading.  Wonderful stalls provided a variety of colourful items for sale.

The program for the weekend comes to an end at 14:00 on Sunday after lunch has been served, although some people choose to pack up and start the journey home during the course of the morning to avoid the Sunday afternoon traffic.  We had a lot of fun and decided that next year we will certainly camp and use the meal plan.  Can't wait!
Points to note:
Take warm clothing and extra blankets – it gets chilly at night!
There are no shops or ATM's nearby, so bring all the food and cash you need.
No self-catering facilities – the Meal Plan option works very well, especially if you bring children
There is no drinking water, so bring around 2litre per person per day – rather bring tap water from home than buy bottled water.
Cellphone signal is not very reliable and there are no charging facilities, so bring a car charger if you need to charge your phone.