Neill Anthony breezed into Stanford, cool as a cucumber. His casual T-shirt and jeans, and easy smile made him seem right at home at Haesfarm in the creative home of architect Harry Poortman and Steyn Jacobs. Guests were greeted by the cat on the driveway before gathering on the lawn which overlooks the Klein River Mountains and the Stanford valley. Harry and Steyn kept the champagne flutes filled with Wildekrans MCC as the small group made our introductions, got to know each other, and played with the dog, Ginger.
And then it was time for us to go inside. The bright spaces inside the crisp and yet comfortable home are quite breathtaking as enormous glass windows show off the best views of the valley. The seams between inside and outside are barely there as wood, mortar and glass blend into the fynbos. The understated art collection and modern house music played by djtessprins instantly captured the imagination of the guests, as we chose our seats at the tables set with tall glass beakers of fresh spring water flavoured with springs of rosemary and fresh ginger root. This was not going to be an intimate lunch for couples, but rather an experience shared by a group of relative strangers who found ourselves caught in an incredible moment. Our excited smiles gave away how thrilled we all were to be there, despite the effort everyone had made to dress down, wear sandals and tousle our hairstyles.
Chef Neill's menu was a line-up of eleven courses! How does anyone really eat eleven courses? Well, I'll tell you how…with relish! We were in for a treat in which our senses would be indulged. From the get-go, we were put at ease when the first course to be served arrived on the tables. It was announced as the bread course, and wasn't even on the menu. Crusty hunks of warm sour dough bread were placed on the table alongside frying pans of nut brown butter and wild sage. Usually a sneaky treat reserved only for the cook in the house, we were encouraged to break off pieces of bread and dunk them into the melted herby butter. There is no way one can do this with a knife and fork, or remain elegant, so we rolled up our sleeves, dunked with gusto and relaxed for the rest of the adventure.
The second course arrived in little nests of marjoram and wild flower petals. Crispy slim cigars of phyllo pastry filled with cool, nutty humus and fragranced with cumin were the second cutlery-free course. We were getting the hang of the meal, and getting into the spirit of sharing, laughing and delighting in the show that Chef Neill had cooked up, which stimulated not just the sense of sight, but also of smell and taste.
Neill's third course was called Tuna Taco. While this sounds like an understated name, the course showed off great ingredients, and great ideas. This plated course was delicate and witty, playing on our misconceptions of what Mexican food looks like. The raw, semi-translucent tuna was placed on and inside miniature tacos, next to plump dollops of silky avocado and funky chipotle mayo – no grated cheese or lumpy guacamole in sight! Messy Mexican became modern in the hands of Neill Anthony, and the Hermanuspietersfontein Bartho Sauvignon blanc/ semillion blend, with its smokey minerality was a delicious compliment to the fish. Make no mistake, we all licked our fingers and mopped up every smudge of taste from our plates.
Course number 4 was Cured Yellowtail. This was a triumph of flavours from bold, sharp fish and sweet red onions to brilliantly green yet nutty broad beans and punchy aubergine puree perked up with sumac. I did not think this taste sensation could be beaten, not even by this private chef who was clearly on a roll, and I was torn between tasting each individual flavour independently or together, as a symphony. Springfontein Terroir Selection Chenin Blanc 2012 was the perfect accompaniment.
Plate number 5 was an enticing plate of emerald broccoli puree and a decadently crispy, nutty ever-so-slightly salted sprout of tempura broccoli sprinkled with miso crumbs. The miso crumbs were a knock out, and transformed the green earthy flavours into something exotic and Asian.
DJTess got a giggle when she said she would match her music to each course, but she seemed to pull off some kind of wonderful magic. Her cool house tunes skipped seamlessly from sounds reminiscent of the pings of underwater submarines to the whirring of wind and keening of whales, all to the rhythm of chic city loft parties.
The next plate arrived looking like a party on a plate. Smoked ham was shredded and served with gently boiled quale eggs, pea puree, jewels of roughly chopped peas, grain mustard and a confetti of pink and white corn flowers. The pork was deeply and decadently smoked and salty, and yet the slightly sour taste of the flowers were a perfect match. Another perfect match was the smooth plummy Walker Bay Amesteca 2015 with its lingering cigar box flavour.
Course number seven made us sit up and rethink some traditional dishes. Chef Neill served mixed grains which included lentils and barley with mushroom ketchup and parmesan chips, a generous sprinkling of salty grated parmesan and purple flowers. A wonderful nuttiness filled our mouths and noses, and the textures and richness outstripped even the most authentic risotto. And that mushroom ketchup far surpassed tomato ketchup as we know it. Neil explained that mushroom ketchup actually precedes tomato sauces and has partially fallen out of modern consciousness…well, not any more. The mixture of earthy mushroom with acidic vinegar, salt and sugar made this a truly exciting relish to accompany this clever course.
The quail was served like a Jackson Pollock painting on a plate of cobalt blue. Slivers of kolrabi, turnipy in taste, and hazel nuts joined an avalanche of olive oil snow which turned the meaty, almost sweet roasted quail into a heady treat. The bitter celeriac puree, sweet roasted celeriac and sour wild sorrel meant that every taste note was on the plate. And the olive oil snow was as exciting as the first snow fall before Christmas. What a fun dish this was to eat.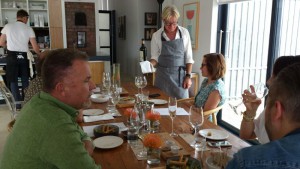 The nineth course was a brainteaser. It looked like a dessert but smelt like baked potatoes. The delicate sea bass and crispy skin which smacked of the minerals of the sea were placed on a light creamy pillow of baked potato puree, spicey tomato fondu, sprinkled with savoury potato skin dust and a bloom of blue cornflowers. Chef Neill had only just begun to show us the diversity of his tricks and kitchen gadgets, and his syphon gun was a show stopper. Springfontein Daredevil Drum Chardonnay Juices Untamed accompanied this magic act perfectly.
Chef Neill then served a little surprise called Carrot. This simple plate showed off a sweet and mellow sticky roasted carrot in a carrot and orange sauce with paper thin slices of black radish. This whimsical dish redefined carrot as simultaneously sweet and also savoury, reminiscent of the sweetness of peanut brittle but with a gentle warm spiciness from the radish. It would have been impolite to lick our plates, but everyone found a discreet way to slurp up as much of that delicious golden sauce.
Course eleven was rich shredded beef cheek, grilled nutty and bitter cauliflower, sweetly roasted onion and a sharp, fiery herbaceous relish of parsley, capers and chilli. The relish cut through the deep indulgence of the beef cheek perfectly and the little wedge of sweet, irony beetroot heightened the taste experience.
Chef Neill was not yet finished as he charged his syphon gun for the ginger Espuma with honeycomb. This course was a show in itself, served in rock 'n roll bowls which danced on the table. The cloud of light creamy foam which pulsed with the heat of fresh root ginger, and the sweet shards of honeycomb had everyone speechless with wonder. What a triumph, just when we thought we could not eat another thing.
Next up: almond olive oil cake which was aerated by the syphon gun before being cooked and served with dollops of tart, buttery yellow lemon curd and a caramelised pear. By this stage, guests were requesting extra lashings of the lemon curd, unable to resist the hedonism of the food.
And finally, the fourteenth course was a perfectly neat square of baked custard served with a sweet and heady nectarine poached in rose geranium syrup and served with fresh flowers and cream. This visually striking course, packed with flavour and scent made a perfect finale to a once-in-a-lifetime experience.
Sir Robert Stanford Fynbos Distillery brought a selection of grappa-based liqueurs to round off the modern, country chic South African Sunday. The food, wine, music and view made this a series of magical moments stolen out of real life. Harry and Steyn made everyone feel truly welcome in their own home and we all knew exactly what they meant when they said, 'We know everyone thinks we are crazy, but we like to do crazy things in spectacular places.' What a perfect day to be able to share with them, Chef Neill Anthony and Jeanae, and what a stellar showcase of local talent and local flavours.
Words by Phil Murray