If you missed it last year, you'll be happy to know that the Stanford River Festival is back, hosted in the beautiful village of Stanford by the Grootbos Foundation and the Stanford Canoe Club. The Klein River, while little, is full of water and ready to offer cool respite to our friends and family from the drier regions of the Western Cape. Come on down to the riverfront at the bottom of King Street from 16 – 18 March and join in the paddling fun.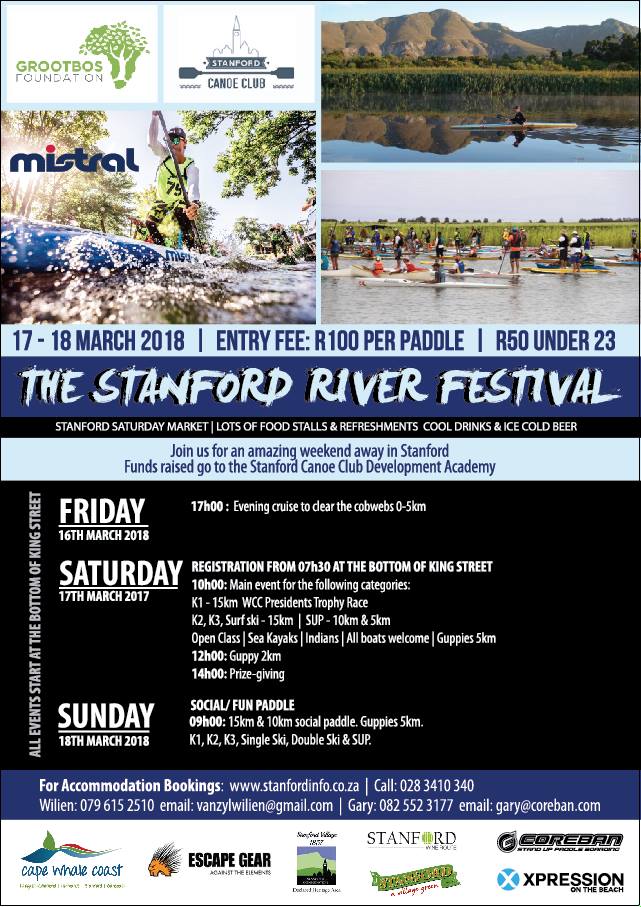 The weekend will kick off with a cruise on the Friday at 17:00 to 'blow out the cobwebs' in preparation for the main action on the Saturday. Saturday offers events of 5km, 10km, 15km and guppy (juniors) races, open to all– SUPs, K1s, K2s, K3s, sea kayaks, Indian canoes, surf skis and guppies. Registration starts at 07:30 at the bottom of King Street.
The program includes a WCCU President's Trophy event, in which a number of current and former Springbok canoeists take part and special categories for Surf Ski and SUP participants have been accommodated for.
The event will be supported by a selection of food stalls, a face painting stall to keep children entertained and a local craft beer and wine tent showcasing the local wines and beers of the region. A selection of covetable raffle prizes will be on offer. Be sure to enter for your chance to win. The support market offers plenty of fun, food and music for spectators so slap on some sun-cream, and come and lounge on the lush lawn of the Wandelpad while you cheer in the paddlers.
All proceeds of the event support the 'Rock the Boat' Stanford Canoe Development Academy which supports local children accessing the sport of canoeing. This programme has grown to include training three times a week and access to regional regattas.  Watch for the academy juniors participating in the races – you should recognize them by their turquoise T-shirts!
We look forward to seeing you all on the picturesque banks of the Klein River of the Stanford Village!
For further information, contact: Wilien Van Zyl, Stanford Canoeing Academy, Email: vanzylwilien@gmail.com
Or follow the event on Facebook here