1. Local is very Lekker
Choosing to wed in a small hamlet like Stanford really does become a village affair. From food and wine sourced locally (think farm to fork options and homemade goods), a bouquet of Fynbos and Proteas (abundant in the winter/spring months), to opting for a local baker to design your cake, your wedding can have true country charm from the ground up. Artisanal products made by locals also make the perfect, authentic thank-you gift for guests. Hint: Visit Antjie's for homemade soaps ideal as small tokens of appreciation or visit the Saturday Morning Market to enquire about homemade fudge or treats as gifts.
We challenge you to return home without knowing the names of your hosts' dogs as well as three interesting facts about their venue or the village! You might even score one of their grandmothers' jam recipes.
2. Venues Accommodation options for almost every pocket
With a choice of venues and accommodation options scattered in and around the village of Stanford, couples can design their dream wedding according to their budgets. While some parties may choose to stay onsite at the location, the village also offers a number of more affordable overnight options for guests who would like to be close enough to the venue to walk, drive or shuttle to the location. Weddings out of season are also a popular choice for budget-conscious couples and thankfully Stanford's a "go" all year round –
"In the past, a country wedding was reserved for spring or summer, but so many venues and establishments in and around Stanford have tented options and indoor facilities, so couples can plan a winter or autumn away wedding with confidence," says Philippa Murray, a Stanford local and volunteer member of the Stanford Tourism Committee.
3. Gorgeous Backdrops for your Photographs
From the mountains to the water's edge, you're spoilt for choice when it comes to wedding photography in and around the village. It's probably pretty difficult to take a bad wedding photograph what with the abundance of scenery on offer. For some old-world charm, snap some of your photographs in front of some of the quaint heritage houses or Stanford's oldest church – St Thomas Anglican Church.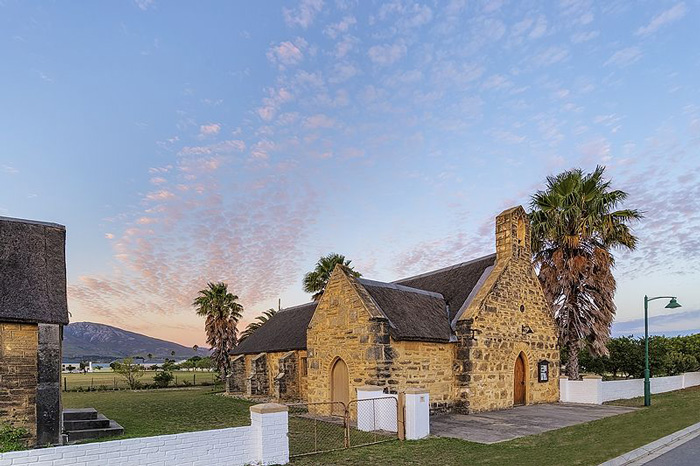 4. Kick off the Honeymoon right away
There's no need to dash off to a remote destination when you've tied the knot in Stanford – you're already surrounded by an abundance of natural beauty, fantastic food and wine, and plenty to do. Go horseriding on the beach, pamper yourselves at the Rain Milkwood Spa, book an exquisite lunch at Havercroft's or slow it all right down and stroll hand-in-hand through the village admiring the architecture, wrap-around stoeps and the local wandelpad.
5. Spend quality time with friends and family
Destination weddings allow couples the opportunity to spend additional time with their guests, rather than trying to squeeze it all into one afternoon and evening. Meet up for a wine tasting the day before (Stanford boasts its very own wine route) or go on a cruise down the Klein River – a proudly-Stanford experience and a tourist favourite.
"There is so much on offer in Stanford, something for oldies, young children and families," Murray says. "A wedding can be a whole weekend experience for guests, and it is a perfect place to come back to, so couples can relive their experience."
Top wedding venue choices in and around Stanford include:
Reliable shuttle and transport options, including LesP Enterprises and Shuttle Service, for day-trips in the Overberg and along the Stanford Wine Route.
HOT TIP: For bachelor or bachelorette parties – try the area's vibey wine farms and craft-beer breweries, such as the Jolly Rooster, Misty Mountains Estate, Birkenhead Brewery or Stanford Hills Estate.