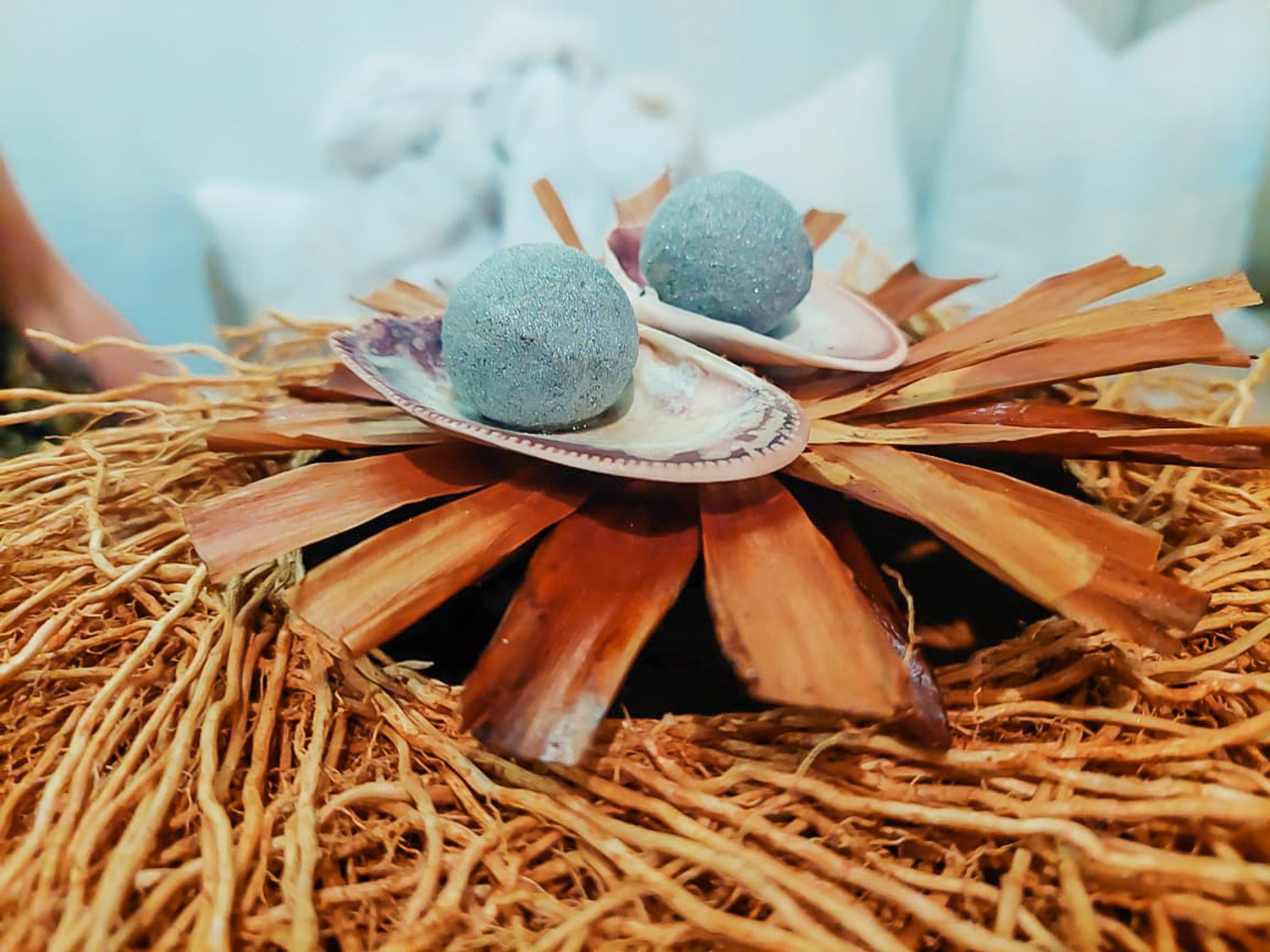 Take a Journey Down a Curved Watercourse
 It really is rather astonishing to think that here in our tiny village of Stanford, in between the sticks and the kraals and away from most cosmopolitan comforts, we have the privilege of experiencing world class fine dining right on our doorstep. That the experience is steeped in all things Overberg, and has a down-to-Earth-ness akin to walking down the Wandelpad to put one's bare feet in the Kleinrivier, makes it an unforgettable one.
The sun was busy setting in a spectacular way familiar to the arrival of Autumn, as my companion and I drove down the alleyway of Cycads into the calm setting of Springfontein's gastronomic pop-up, Wortelgat Restaurant. Hosted by the head chef, Tom Vinke, son of Edwin Vinke from the two-Michelin-starred De Kromme Watergang in the Netherlands, this was an evening we had been looking forward to. We were not prepared, however, for the experience of utter abundance, in both sophistication and in heart. The incredible dishes, the intelligent wine pairings and the warmth as well as the stories of everyone from the servers to the chefs made it an evening so rich, so elevated, and so elegant while remaining accessible and relaxed. It represented all the things we love about the nature that surrounds our own curved watercourse – simplicity and complexity in a perfect dance.
Our adventure began with a warm welcome from Mariska Kammies, a delightful glass of bubbles (Webersburg Rosé) and an amuse bouche featuring an assortment of foraged sea grass salad, charcoal brioche and Cape Malay curry crackers beautifully presented on an arrangement of driftwood, kelp and limestone rocks, reminding us of the intimate connection that the chefs have with our local ingredients and that of the Springfontein terroir. It was all utterly delicious, complex and interesting, and we thoroughly enjoyed snacking while perusing the set menu.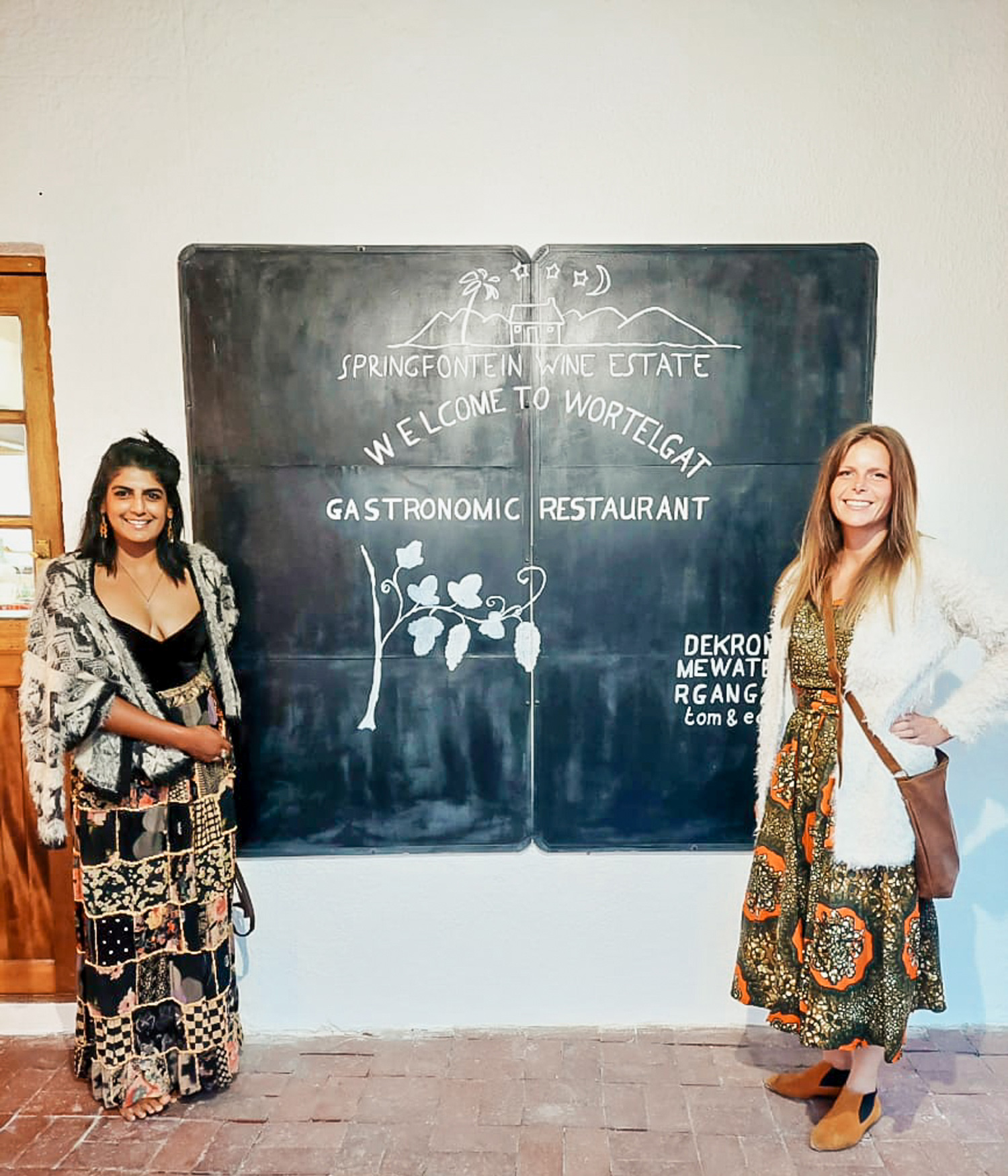 It may be worth mentioning at this point that my companion and I are both vegetarians and had asked for the menu in its vegetarian version. An omnivore would be excused in assuming that we are therefore not the best ones to appreciate a culinary experience like this – one could say it would be like throwing pearls to the pigs as we say in Danish, with us not being able to enjoy the local seafood and game in the hands of these great chefs. This assumption would be entirely wrong though. The mark of a true master is that he can work with any tools, and the 9-course vegetarian menu we were treated to, showed true mastery. Humble vegetables that we grow in our gardens in Stanford were manipulated in the most creative ways, with a cornucopia of flavours and expressions on each dish.
Our first starter – presented beautifully on Abalone shells – was one of my favourites. Delicately charred broccoli stems with avocado and cucumber were served alongside a vegetable shot, playing on the flavours of a Margarita. The wine pairing of a 100% Chardonnay, 2018 Daredevils' Drums Juices Untamed, lifted the fresh and clean flavours to make the entire thing sing like nothing I had ever imagined. I could have eaten my fill of this every day and twice on Sundays, but we were quickly on to the next, deceptively simple-looking dish – a fun play on some homecooked classics. A perfectly poached egg nested in a silky chive mousseline, was served alongside a luxurious potato, leek, and chervil soup, which was so buttery and had a rich truffle background. It was all tied together with a cute and very posh-looking French fry, elevated with pickled horseradish. This richly flavoured dish was again cleverly paired with a Blanc De Noir which was delicate, yet full of personality – 2019 Daredevils' Drums Blushes Inverse Pinotage.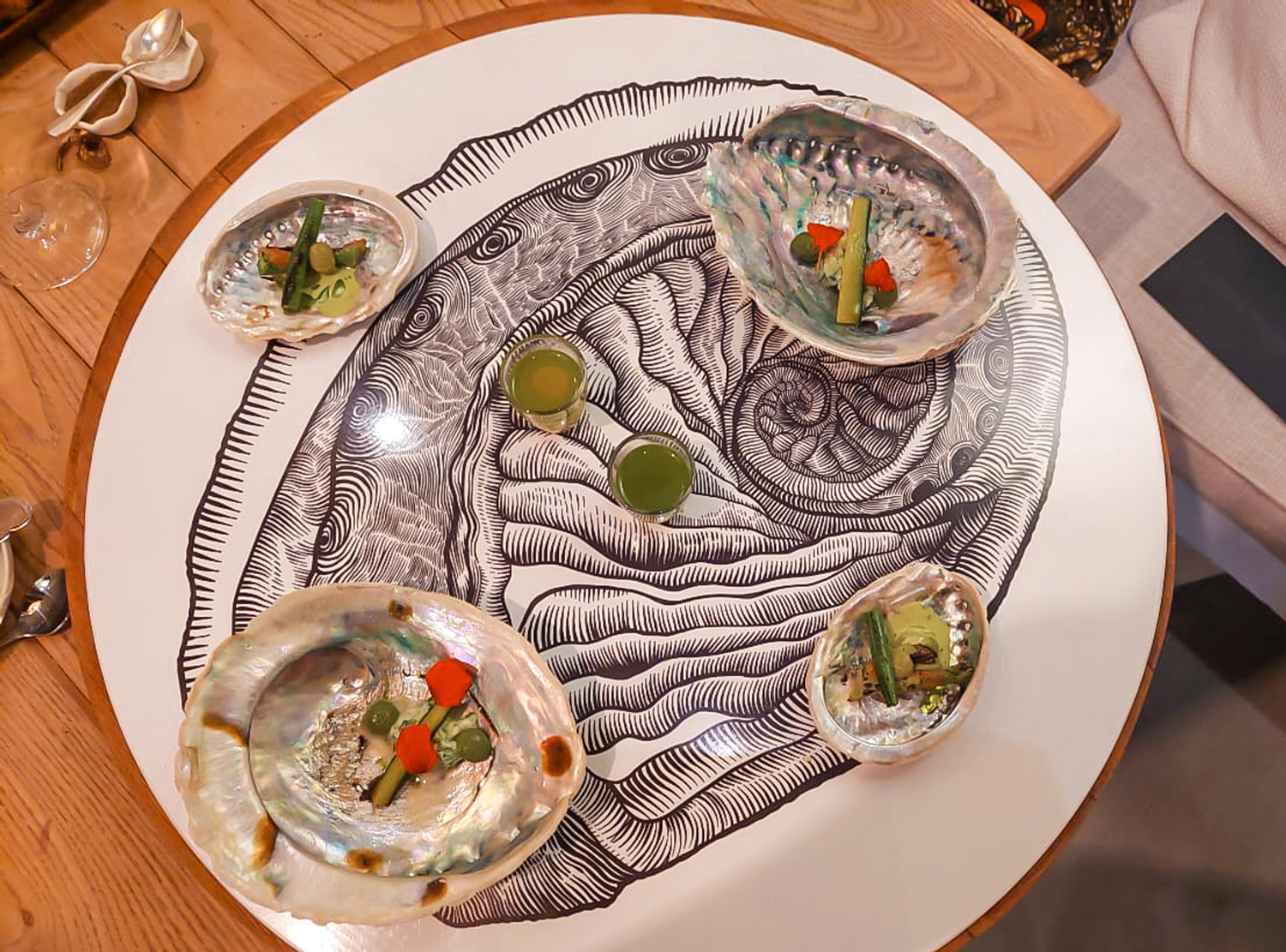 The next few courses took us on a trip around the world. We travelled to the Mediterranean for richly spiced tomato and zucchini, over to colonial Asia for mushrooms en papillote with intensely flavourful notes of lemongrass, ginger and coriander, and back home to Southern France for baked beets in a port sauce. One of the absolute highlights, however, was a carrot that had been on an even longer journey than us; 3 days of salting, herb bathing, smoking and roasting to create something which I can only describe as vegan nirvana. As we moved through the courses, it was wonderful to see pairings with some slightly older vintages, with a Cape White blend, Dark Side of the Moon 2015, taking the lead. In my personal opinion, the wine culture in South Africa can be dismissive of the importance of ageing, and it was exciting to taste the complexity and evolution in these wines that had some years on them.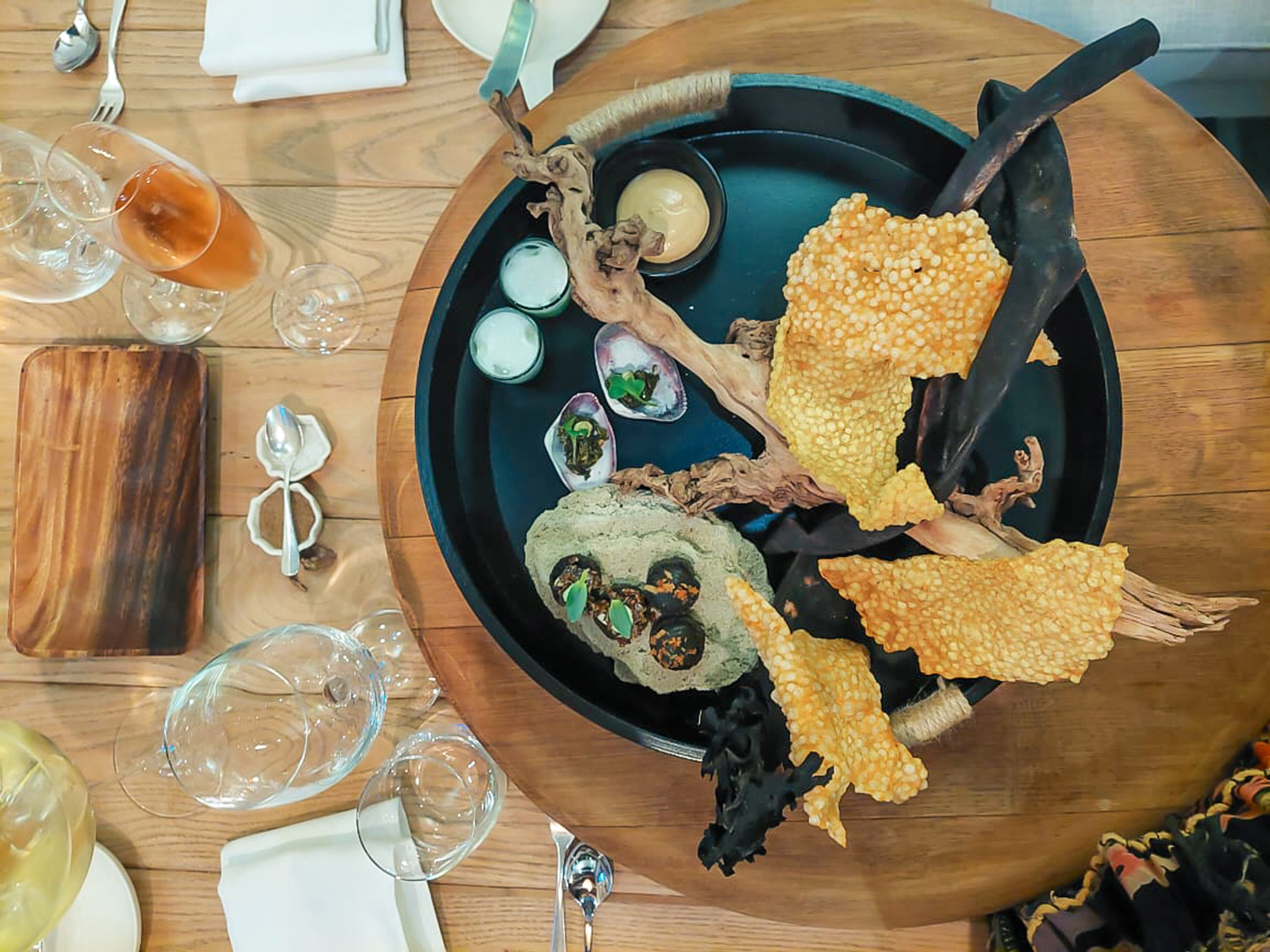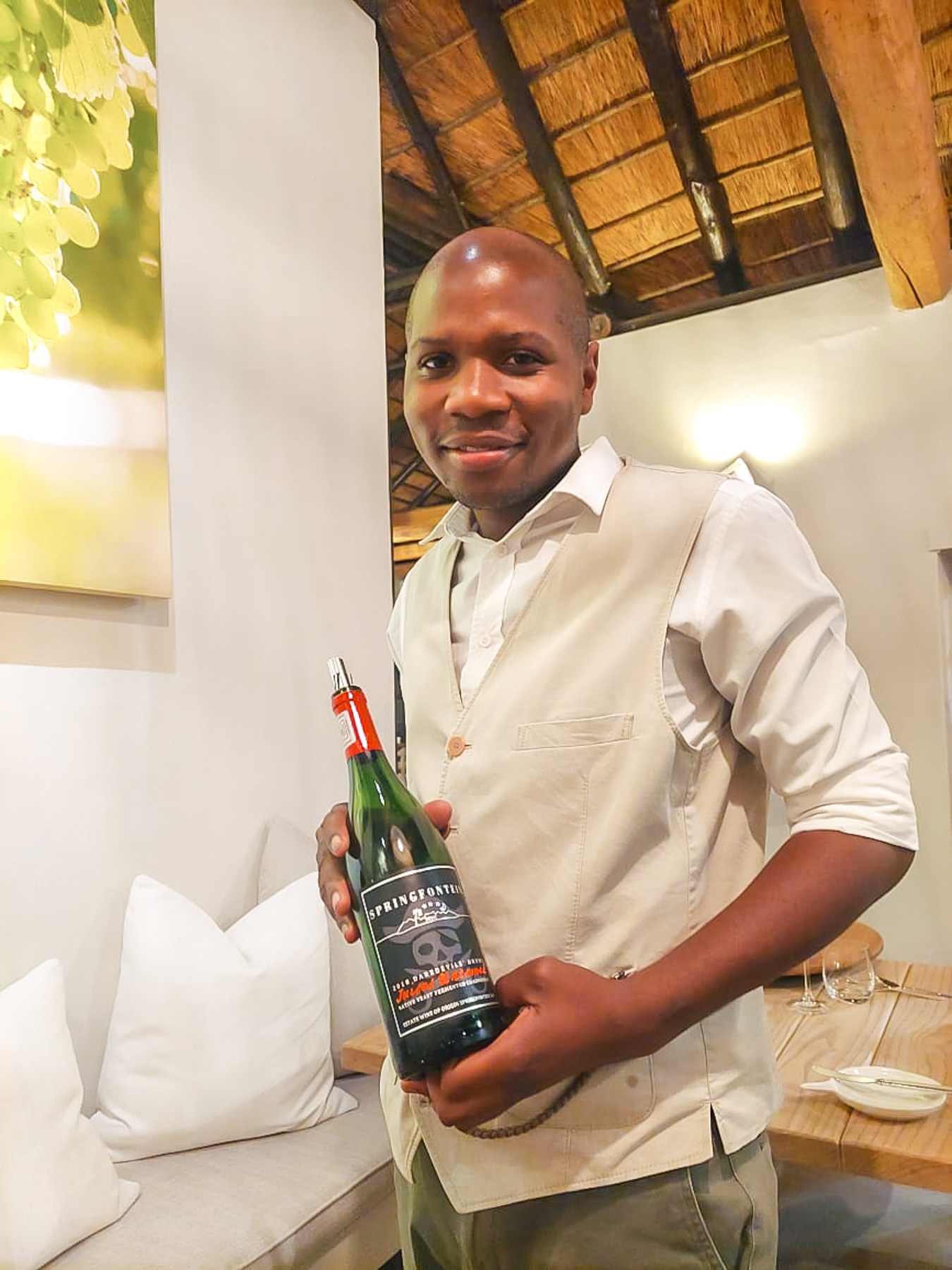 While our culinary adventure was rounding off, first with a selection of local cheeses paired with Aya'ba MCC 2014 and then a gorgeous, deconstructed tiramisu paired with a 100% Chenin Blanc, Ikhalezi Noble Late Harvest 2013, we had the opportunity to ponder the many aspects of this successful venture. While there is no doubt that the wine and food alone is well worth a visit, so much richness was added to the experience by the meeting of different cultures and levels of experience. As told to us by Toby, our wonderful maitre d'h, only two of the chefs in the kitchen are from De Kromme Watergang and trained in fine dining. The remaining five chefs are South African, with some of them coming from Springfontein's bistro restaurant, the Ulumbaza Wine Bar (n), open seven days a week. Oigen, Sihle and Lyzandre are qualified chefs from Bredasdorp, Soweto and Brackenfell, where Lilly and Lucinda are self-taught Stanford locals.
This was a great learning experience on both sides; the local chefs had to learn the intricacies of fine dining, while the Dutch chefs had to learn how to work with the cultural differences and local ingredients. This has obviously been successful – the chefs are not just wonderful colleagues by now and able to co-create an exquisite dining experience, but are seemingly great friends. The journey onwards is a dream to those of us who enjoy the symbiosis between tourism and local development, as two servers and two chefs from South Africa now get the opportunity to go to the Netherlands and work at De Kromme Watergang, with the ones remaining at Springfontein having seriously upskilled themselves.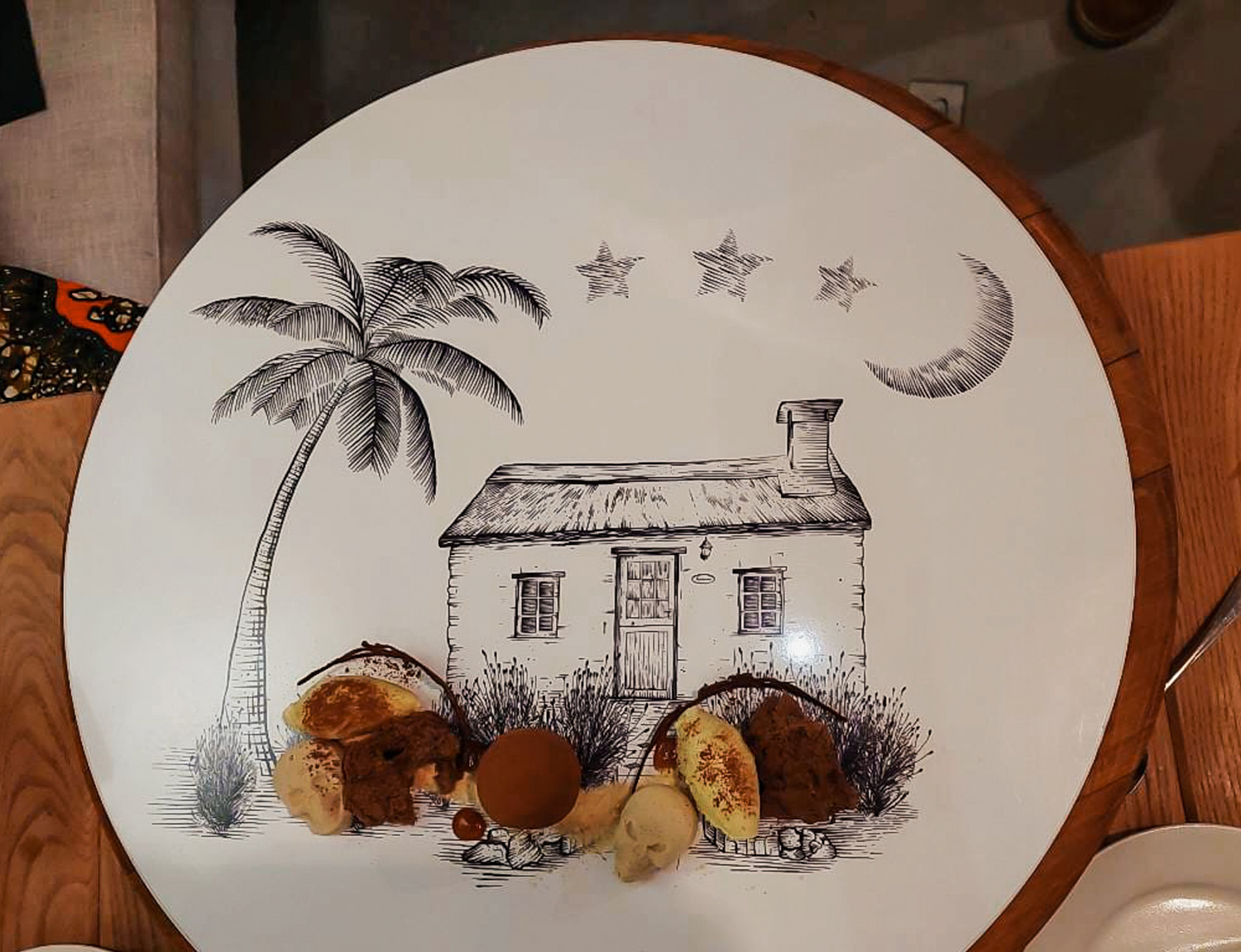 We left Wortelgat Restaurant a good five hours after our arrival, thoroughly full in both our stomachs and our hearts. From the décor and the stories as well as the warmth of the staff and owner, Johst Weber, to the creative interpretations of local ingredients happily married to the wine grown right outside the window – it all came together in a beautiful symbiosis. Much like our own beloved curved watercourse, the Kleinrivier can, this evening both lifted our spirits and inspired our senses.
Fortunately, this is not the last we will see of this wonderful fine dining venture in Stanford, as De Kromme Watergang will return for another pop-up at Springfontein at the end of the year. Do go; you will be most delighted that you did.
– Words by Stanford Tourism Chair, Rishi Sundstrom