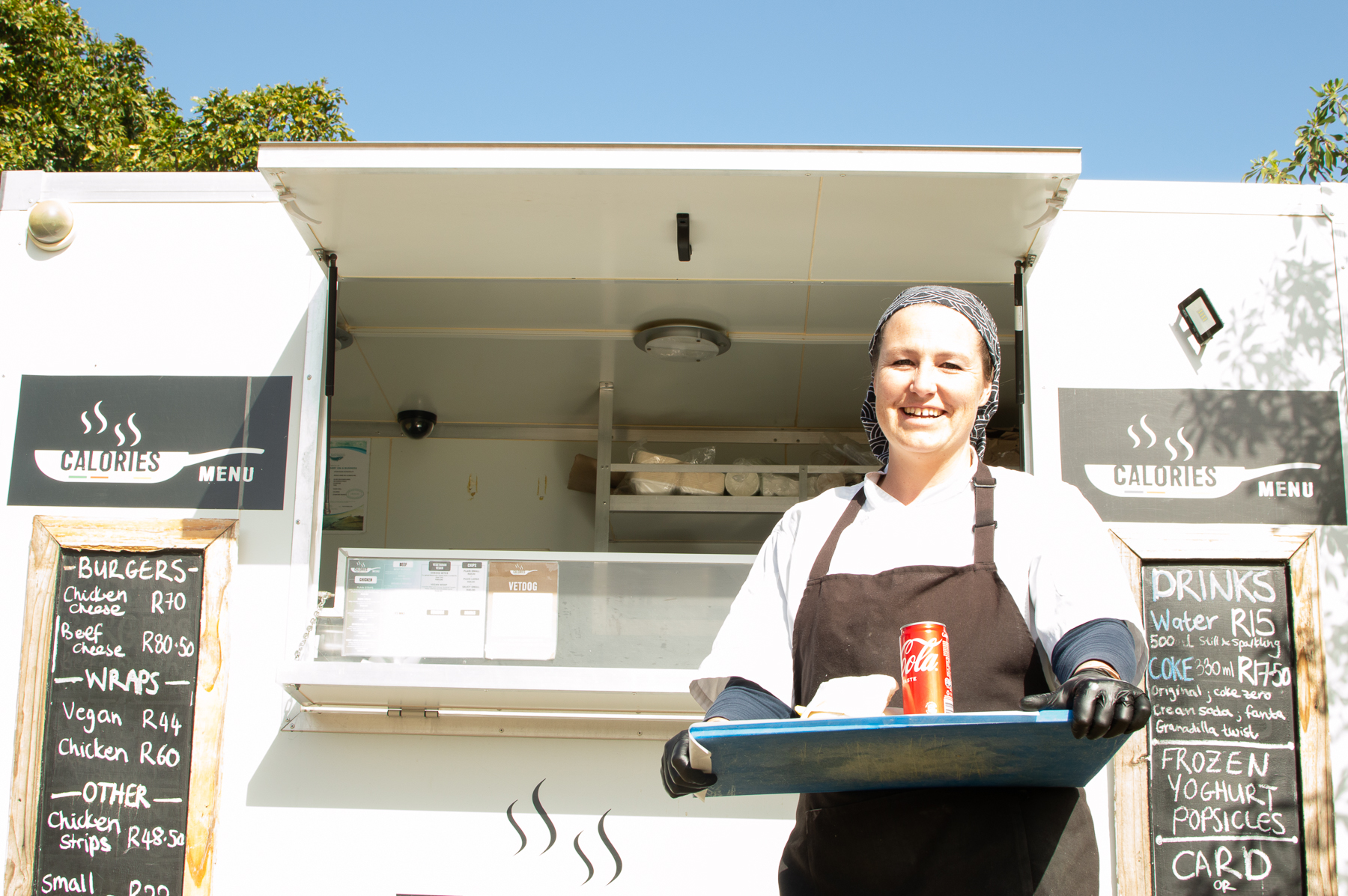 Fast Food, Stanford Style
An Off the Grid Family-Owned Food Truck Serves Up Local-Inspired Fare
#stanfordculinary spotlight

You've no doubt spotted the white Calories food truck parked in the lot next to the iconic NG Kerk in Stanford's main road. Serving up chicken and vegan wraps, burgers, chips and other hot foods, Calories is a takeaway novelty in a village without big-name fast-food brands. Many Stanford Businesses are independents: owner-run or operated, which means a whole different level of service delivery. A fact the village is very proud of. Calories are no exception. Founded by husband and wife, Angus and Jess Nel, the venture is very much a hands-on affair. And when you're open 7 days a week, 10am-6pm, hands on is VERY hands on.
"We are family run business. All the food that is produced are our own recipes and we take great pride in producing our quality fast food items as well as our frozen food items." says Jess. "Every day starts at 6am and ends at 8pm for us. What's first and last of the day? Cleaning, cleaning and more cleaning. So much so that my youngest believes that's what I do all night and that mommy doesn't sleep. Then squeezed into all of that is Admin – this includes stock orders, bookkeeping, marketing, sales and branding and my all-time favourite, costings. Keeping on top of the constant price changes is a job all to itself."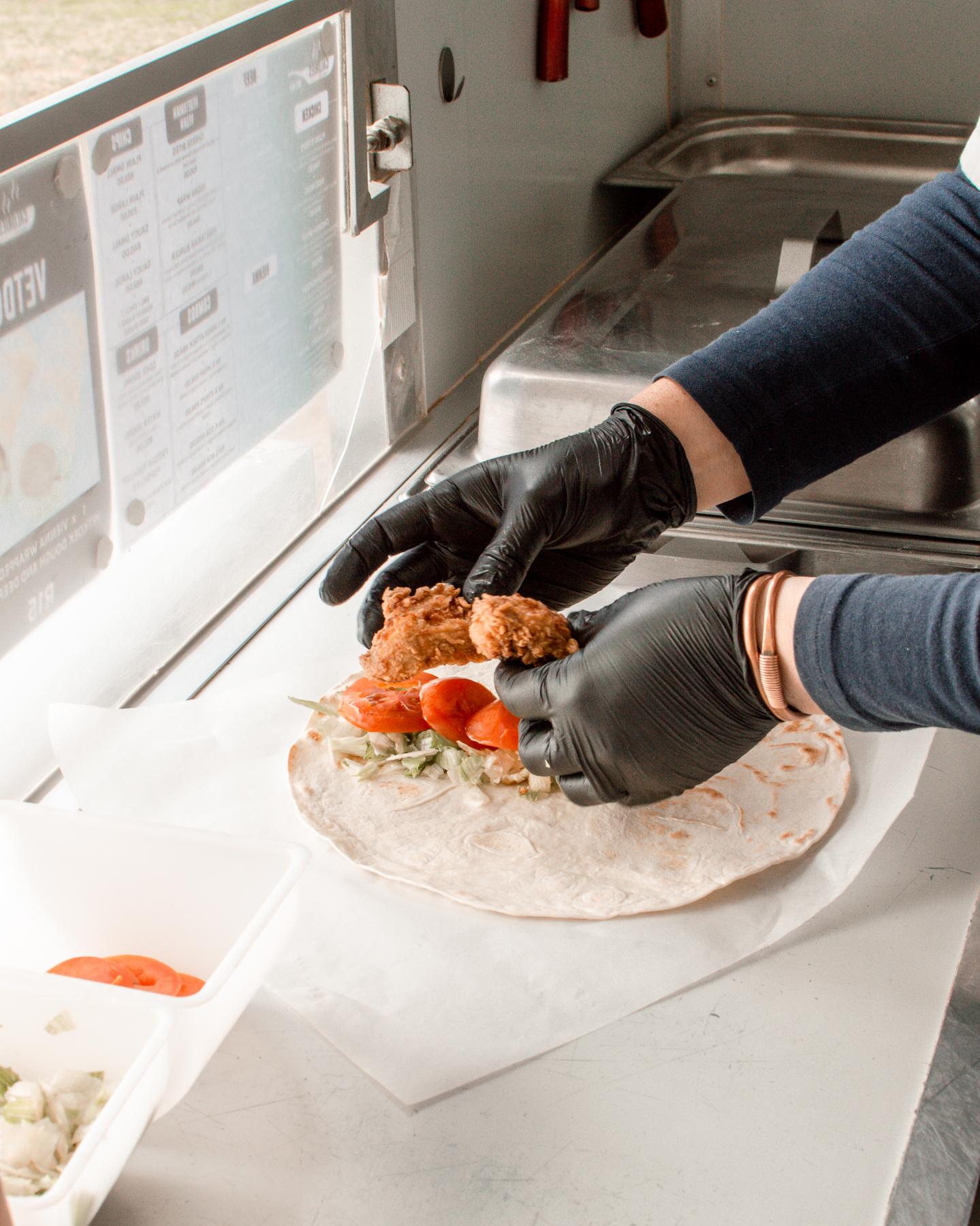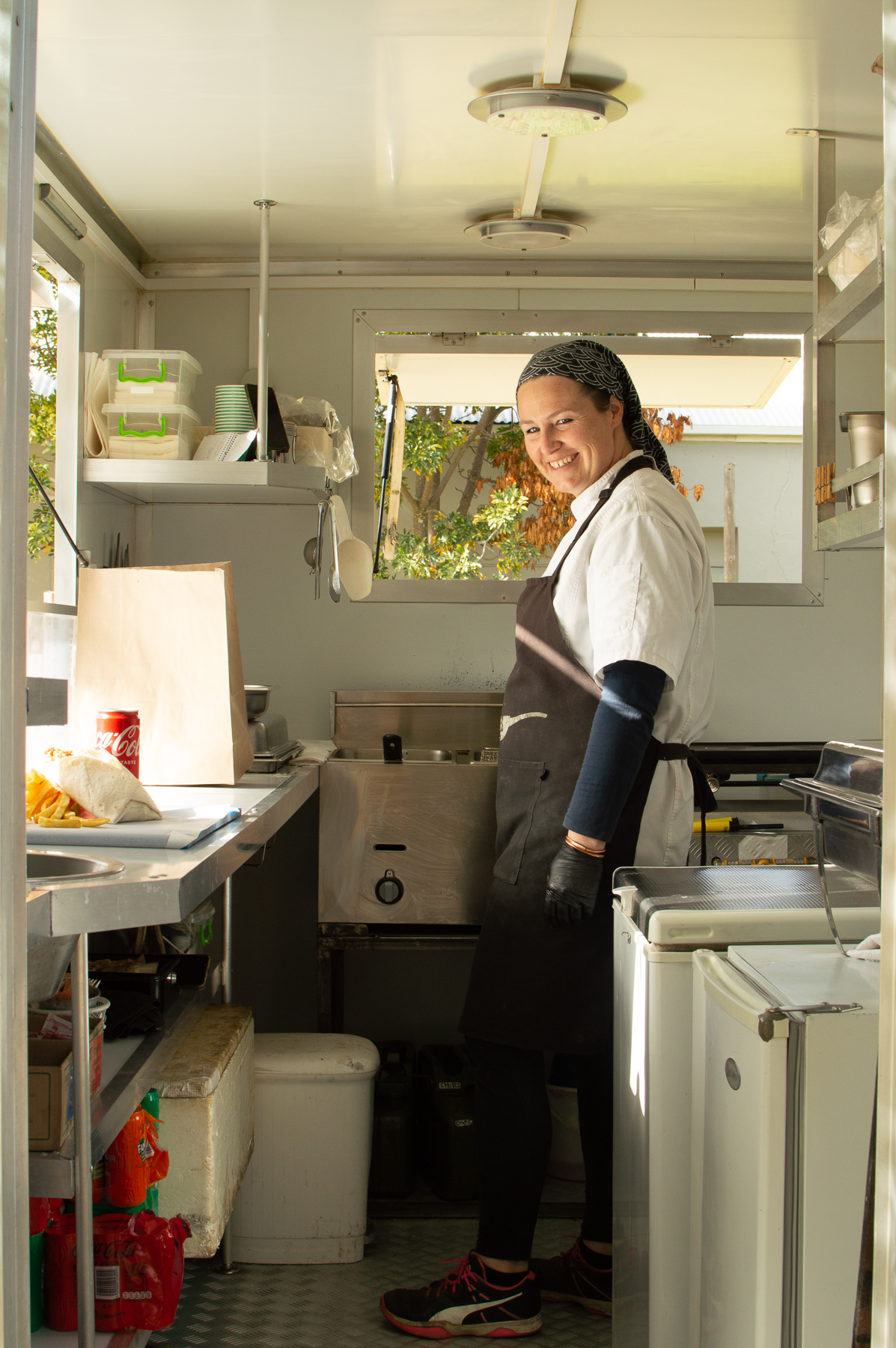 When Angus and Jess developed the Calories concept, they had an idea of the style of food they wanted to serve, but the menu is very much inspired by locals. Items like the gatsbys, and the new 'vetdog' (a vienna wrapped in vetkoek dough and deep-fried) have a particular local is lekker flavour about them. A vegetarian burger, and vegan wrap were also added by request. Jess has a background in the Sciences (a Masters in Marine Biology) and has a nose for research and formulations and isn't scared to experiment when it comes to product development. Her knack for research has also meant that Calories are very thorough when it comes to all the requirements that go with running a food-service product, as well as the best ways to reduce the businesses' footprint.
"We have very little waste" says Jess, "our trailer is off grid – solar and gas powered, our takeaway containers are made of sugar cane fibres or recyclable cardboard and our used oil is collected by a company which turns it into biofuel. We are very strict with oil and quality control in general. "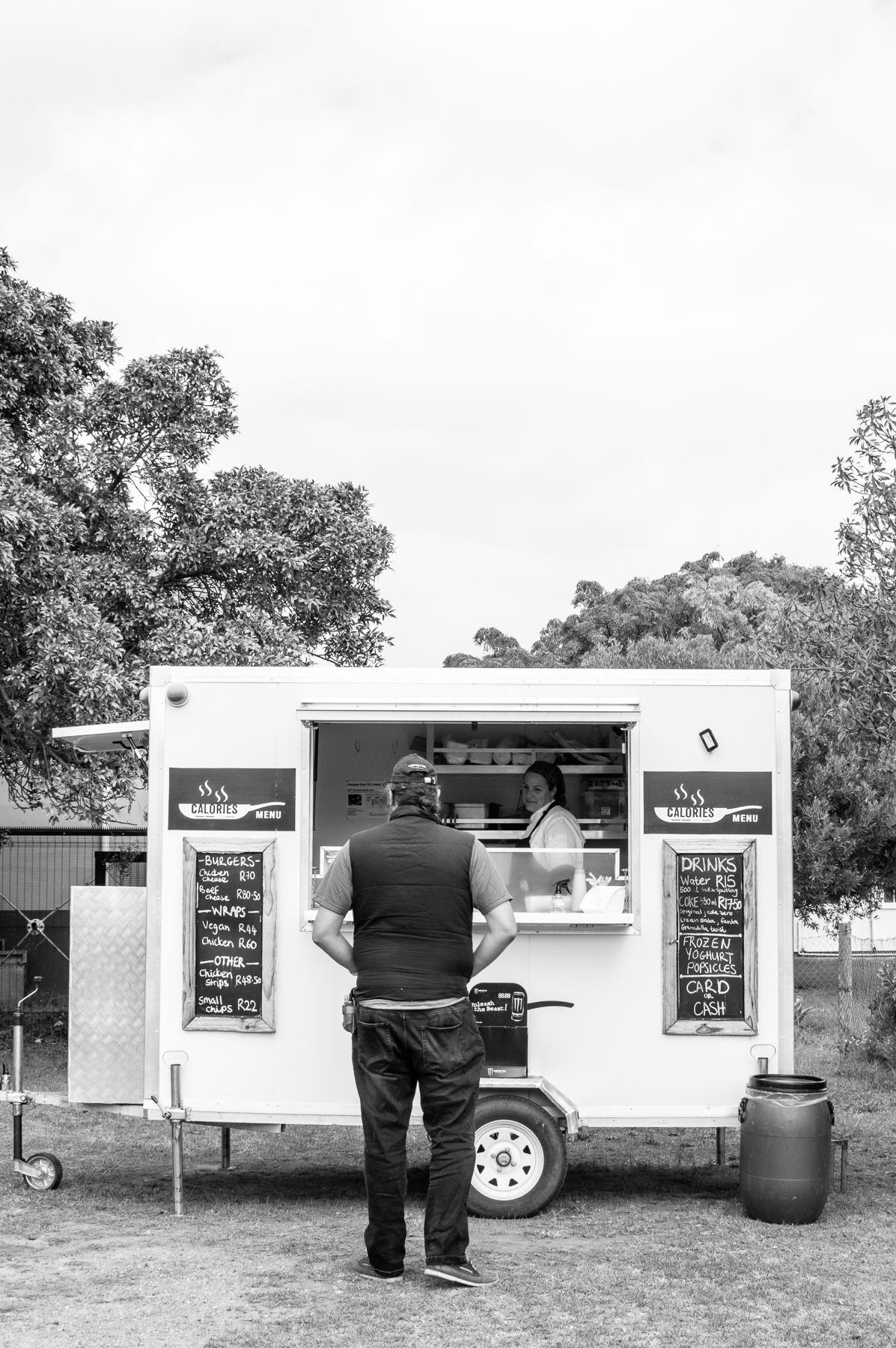 Perfectionists in fast food? Maybe. This same eye for detail served the couple well when they designed their trailer – yes they did it themselves using free online design software. Angus and Jess conceptualised everything from the workspaces to the storage areas and shelving, and then had the trailer fabricated in Cape Town. "It was all done during lockdown" recalls Jess, "Angus travelled to see the guys only twice, once near the end of the development to see how it was going, and the second time was to collect the trailer. Everything else was done via online meetings and calls. We also ordered all the accessories we needed online – no one was going to shops."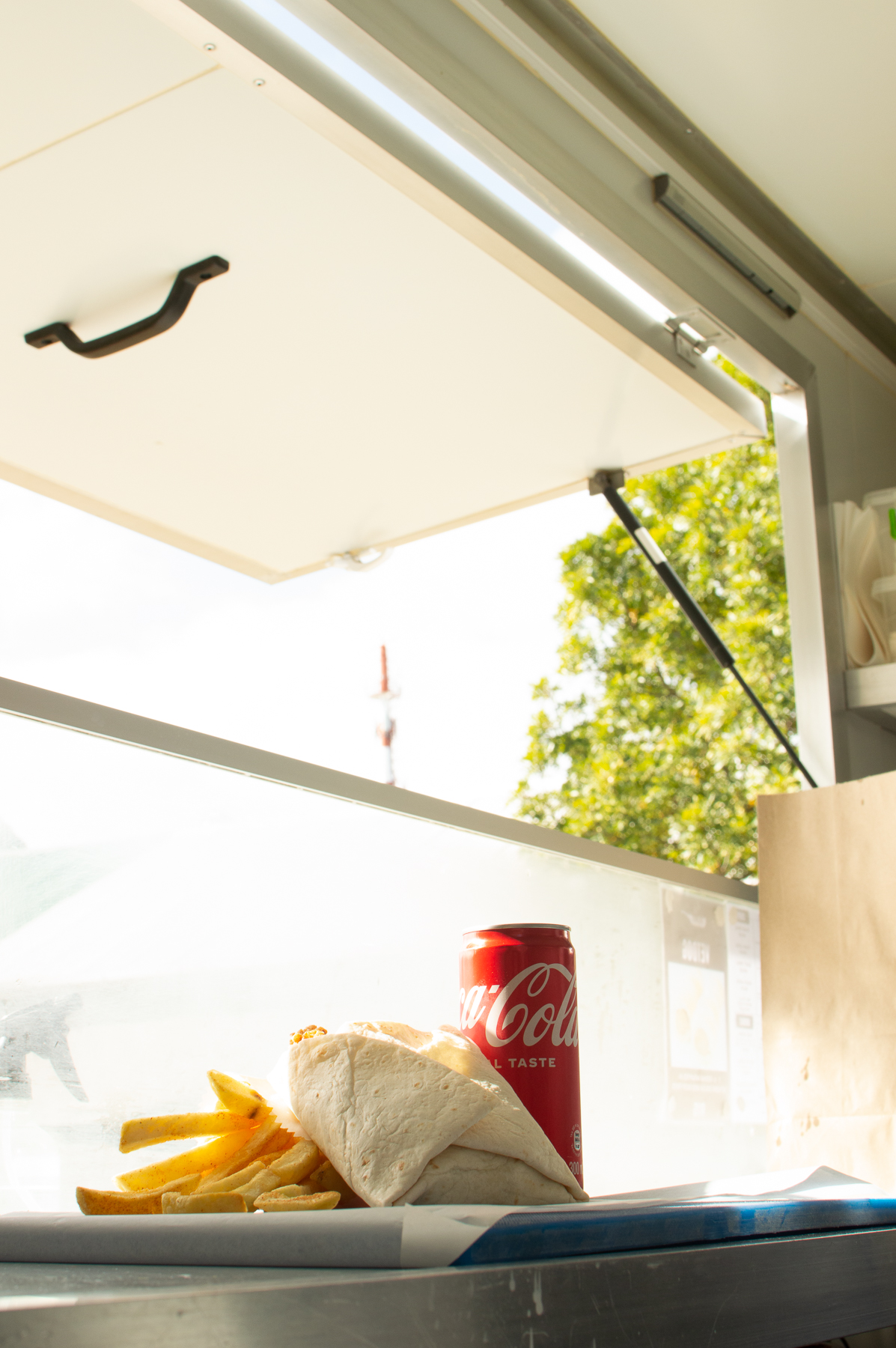 So, what's next for this Stanfordian venture? In addition to their Take Aways, Calories produce family-friendly convenient foods in a cook-from-frozen format. Key to their product is that they avoid all the nonsense ingredients like MSG, Colourants, Flavourants etc. As more and more things have opened up again, they have also started Calories Functions where the Food Truck is available for events and function
We couldn't leave without asking Jess about Stanford's biggest asset.
"For me, it's far enough away from the hustle and bustle of a bigger town or city but not too far that you're in the middle of nowhere. It's also great for raising a family as kids here can still play in the streets and be "free range kids"'
Find Calories between the General Dealer and the NG Kerk in Queen Victoria Street. Open 7 days a week from 10am-6pm. They accept cash and card. Be sure to say "HI" to Jess or Nompi when you visit. Follow them on Facebook: @Calories.net.za and Instagram: @caloriesfoodtruck