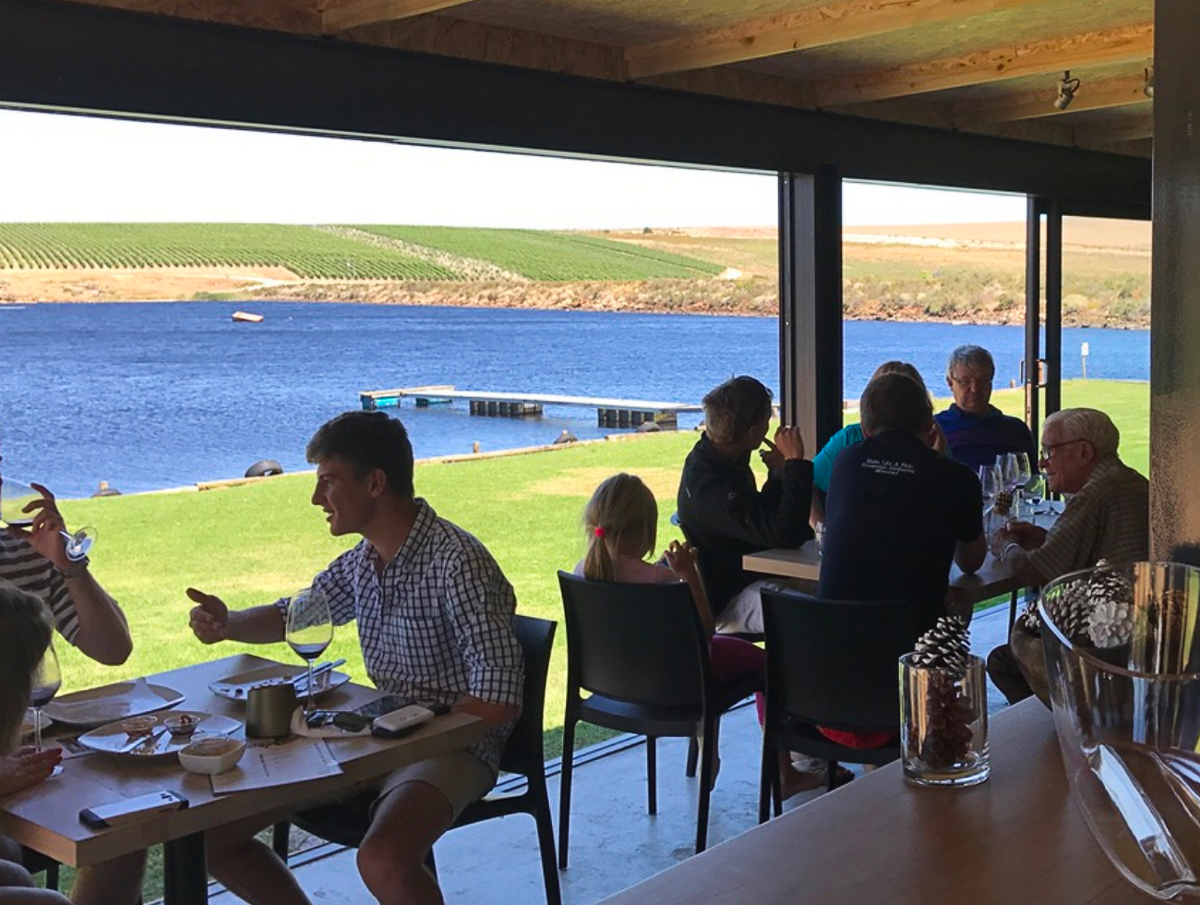 Lomond Wine Estate is situated on the Agulhas Plain at the Southern most Tip of Africa, 8km away from the village of Gansbaai on the tarred road to Elim.
This forms part of the Cape Agulhas Appellation of Origin.
The vineyards were planted only on previously cultivated land and the property's natural habitat, with it's wealth of biodiversity is being conserved. Lomond is a member of the Walker Bay Fynbos Conservancy and adheres to eco-sustainability management principles.
Our Vineyards are planted on as many as 18 different soil types, which appear naturally in small pockets along the slopes and produce intriguingly complex wines with flavour profiles that differ markedly from one block to the next.
Our tasting venue:
The Tasting Room @Lomond which overlooks the 100ha Lomond Dam and provides guests with unparalleled views of the farm, vineyards and valley. This chic but relaxed venue was created and decorated using wood, leather and steel. Various lounging areas are available, either for a quick tasting or for enjoying a more laid-back afternoon with friends. Food platters are available and include local cheese, charcuterie and the best of local produce.
Our function venue:
The Milkwoods @Lomond is set among one of the region's last surviving ancient Milkwood forests. This unique venue is situated just below the Lomond Dam and provides a naturally enclosed venue which is sheltered from the summer heat.
Lomond has something for all the family … from mountain biking, floral hikes that will leave you breathless, and of course wine tasting – there is much to do amongst these fynbos-covered hills.
We've been hard at work re-building our MTB routes. With 8, 12, 17, and 25km loops – there is an option for everyone. Finish your ride on what will soon be the areas first and only flow trail back into the vines. Stop by the tasting room for permits and maps or WhatsApp us for guided rides: +1 818 264 6417.
There is magic in the air right now as early spring is the only time of the year you can experience Proteas and Pincushions in bloom together. Jog our FREE 5km route around the vines or wander into the hills above the vines on the various trail options.
Relax on the shores of the dam and enjoy a flight of award-winning cool climate wines; a fresh, locally sourced platter; or an ice cold craft beer.
We're open Monday-Saturday 10am until 4pm.
For further enquiries please feel free to drop us a mail.