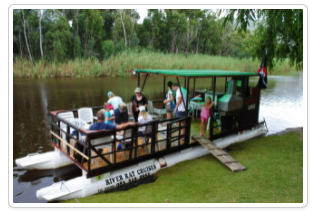 Join us on the River Rat for scenic cruises up and down the beautiful Klein River in Stanford, just outside Hermanus.
The river is famous for its big variety of birdlife, breeding and nesting in the reeds on the banks of the river. Other wild life include some buck in a small reserve, otters feeding on crabs, terrapins and the odd puff adder swimming across the river.
We adjust according to customers' needs and go out in most weather conditions.
Fitted with its quiet, eco-friendly motor, birding clubs often use the boat for close-up views and the stability – thanks to the pontoons – makes it a photographer's dream.
We also specialize in social-cruises. Whichever time of day you choose, the river has something special in store for you.
River Rat comes equipped with a braai and a toilet with a view.
We can stop halfway, moor the boat to the reeds and do a brunch, boereworsrolls or full-on braai, while you swim in warm, clean water. There are also some tubes with ropes on board for towing for the kids (and young at heart) behind the boat.
Bring your own snacks, drinks and utensils and remember something warm to wear as it sometimes can get chilly on the water. Don't forget binoculars and cameras, as well as towels and swimwear in warmer weather. We supply the fire.
Enjoy your birthday party, a wine tasting, year-end functions or any other celebration in tranquil surroundings.
However a sundowner cruise, watching the sun slip behind the Hermanus Mountains, seeing the reflection of the trees etched on the water and listening to the birds settle for the night, should be on everyone's Bucket List.
The River Rat is very safe with lifejackets on board and is wheelchair friendly as well as dog friendly.
Your skipper, Ernie, has excellent knowledge of the river, birdlife and surroundings and will be able to share some interesting tales on some of the riparians en route.
The duration of the cruises is between 2 and 3 hours.
Rates: R220,00 /person with a minimum of 4 persons (or R880) to go out.
All bookings run through the website (www.riverrat.co.za) and clients are welcome to phone new number for enquiries.
Canoe Hire R100pp