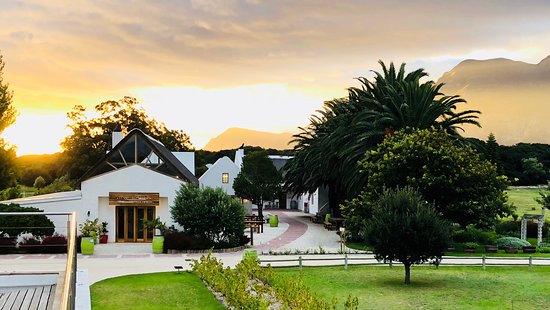 Springfontein Wine Estate
Die Plaat Road, Stanford, Overberg, South Africa
WINES
Springfontein Wine Estate produces multi-award winning wine for the international and local market. It is named after a natural spring that feeds into a vlei, which in turn is used to irrigate the 25 hectares of established vineyards. The soil is 100% limestone and ecological conditions are similar to the renowned wine growing regions of Champagne and a certain area of Burgundy.
The flagship white and red wines are typical South African varieties, namely the Jil's Dune Chenin Blanc and Jonathan's Ridge Pinotage. The Terroir Selection range is most popular with the estate's specialist retailers, while the more affordable Sopiensklip range has been included in the Best Value Wine Guide 2011. The farm extends beyond 500 hectares and is a haven for nature lovers and wine lovers alike.
Tasting Room now open 7 days a week.
Monday to Friday from 11:00 – 20:30
Saturday and Sunday from 10:00 – 16:00
RESTAURANTS
Springfontein Eats   
Springfontein Eats' restaurant on Springfontein wine farm offer a slow-food menu using ingredients sourced from their farm's gardens, including a range of herbs, heirloom vegetables, and fruits and other local produce.
Chef Jürgen Schneider has held a Michelin star for over 18 years and with his wife Susan they ran a successful restaurant in Germany. Now, having moved their lives to South Africa, their goal is to establish ''Springfontein Eats'' as a gastronomic destination with Michelin star quality. The food features a strong locavore leaning with hints of molecular gastronomy, though never at the expense of flavour.
Above Springfontein Estate wines one can expect a wine list featuring an international selection as well as the best South Africa, Stanford and the Walker Bay area have to offer.
Clear your schedule and come for a visit! We would like to meet you, treat you and show you what we are all about.
Springfontein Eats
Our three to six course lunch service
Our four to six course dinner service
 Lunch: Thursday to Sunday
Dinner: Wednesday to Saturday
Springfontein Ulumbaza Wine Bar(n)
Wine Tasting Experience 11:00 to 20:30
Kitchen last order at 20:00.

ACCOMMODATION
TGCSA ***
Springfontein Sleeps
Set amidst 500 hectares on a developing wine farm. Experience true peace and tranquility. Wander through magnificent fynbos, abundant birdlife attracted to the vlei and spring. Miles of nearby unspoilt beaches. Swimming pool, tennis court, basketball court, country walks and bird watching.
Milkwood Cottage: Big sleeping room with en suite bathroom.
2 people sharing per night including breakfast.
Fisherman's Cottage: Small unique cottage with fire place in front of the bed, little bath house behind. 2 people sharing per night including breakfast.
Riverside Suites: Sleeps 2 people sharing, suite with pool for 2 people sharing. Rate includes breakfast.
Min 2 night stay in peak periods.
ACTIVITIES
Overnight guests have the opportunity to explore the extensive terrain of indigenous plants, admire the tapestry of migratory birds, or simply soak up the tranquil surroundings. We have a swimming pool on the premises and a tennis court – R30 deposit (refundable) for tennis rackets.
Mountain bikes are hired out to guests.