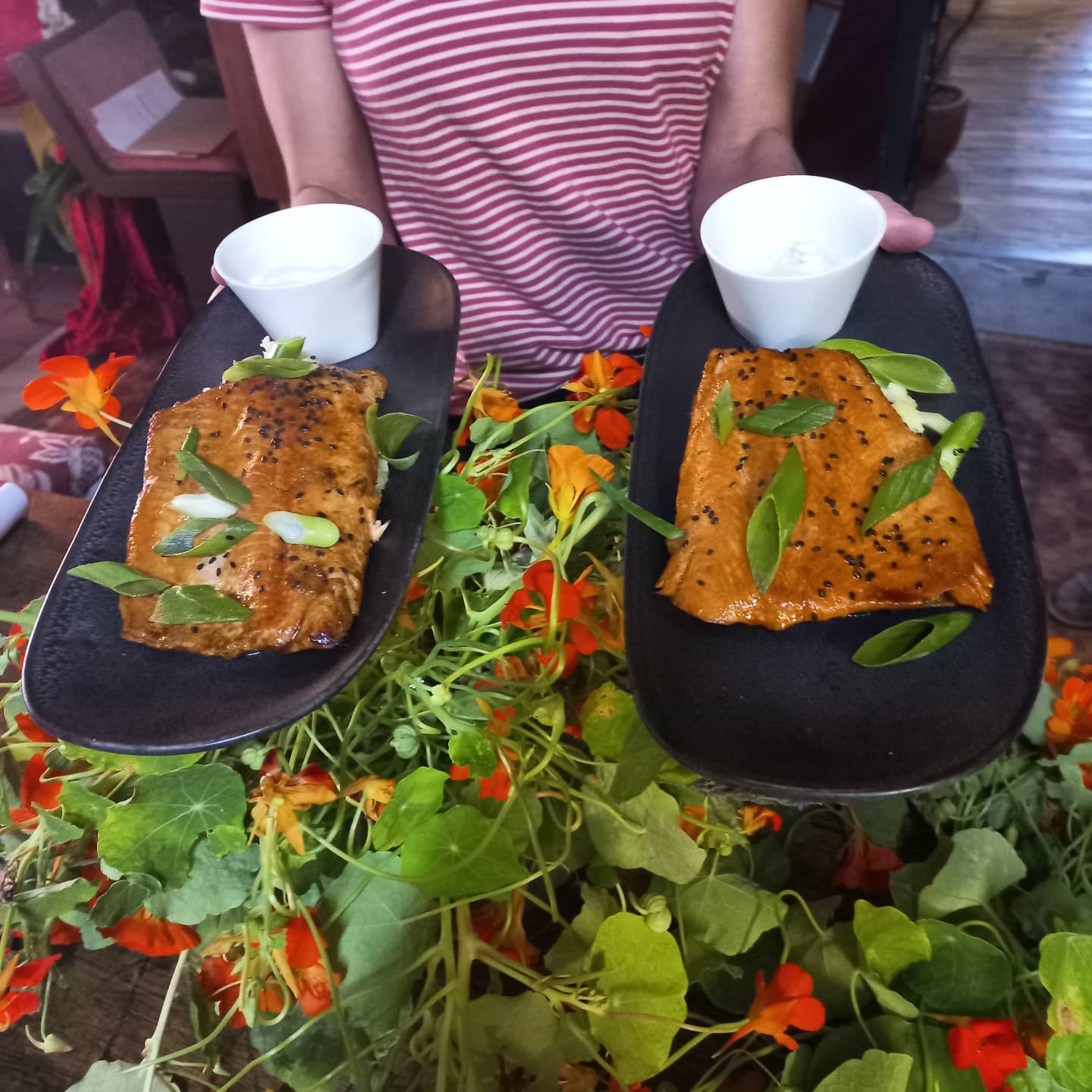 Stanford Summer – The Foodie Edition
​
Ah, long lazy brunches, lunches that ease into early dinners. Move over hot porridge and soulful soups – it's time for lush salads, local produce, beautiful cuts and chilled wines to take centre stage at our Stanford Restaurants.
From local ingredients salvaged from the nearby coast, to farm fresh veggies and wines produced right in our backyard, guests to our village are spoilt for choice.
In the village:
Visit new kids on the block, Searles' Garagiste (featured image) in the main road, or book at Madre. Each boasting their take on seasonal fare and enticing wine lists to match.
For laid back comfort food try Stanford Kitchen, Egret and Owl Book Cafe, Ou Meul at the village entrance and Cafe Stanford situated at the Overberg Agri behind the nursery. All great coffee and cake spots too!
If steak makes you weak at the knees, keep your eyes out for a signboard that pops up outside the Stanford Hotel indicating when the Maison du Carnivore is open.
We are thrilled that La Trattoria has reopened its doors for the Season. Charming Italian fare awaits at this Stanford Restaurant.


Just outside Stanford:
As you drive out the village, turn right towards Gansbaai. You'll soon see the signs for The Jolly Rooster Fynbos Distillery offering Portuguese/Mediterranean Cuisine and hand-crafted spirits.
8km from Stanford and further along the same R43 towards Gansbaai you'll find the entrance to Panorama Restaurant at Bellavista Country Place. The restaurant has an 180 degree view over the Atlantic and the Overberg Mountain Range (prebookings only)
On the road to Hermanus, turn right after you cross the bridge and pop in to the Zesty Lemon and enjoy the view across the pond, or their neighbours, Stanford Hills Estate for breakfasts, lunches and wine tastings (and keep your eyes peeled for upcoming live music gigs!) . The Harvest Saloon, along the same road, is a live music venue/pub – another great spot for dancing beneath the stars on most Friday Evenings. See our What's On for dates.
Further along towards Hermanus you'll come across Misty Mountain Estate . Pop in for pizzas and a gin tasting.
Along the road to Caledon, you'll find the entrance to Birkenhead Estate, the home of Birkenhead beers and Walker Bay wines. The restaurant boasts beautiful views towards the Klein River Mountains.
Keep travelling along the R326 and you'll find two neighbouring farms: White Water Farm – Many of their vegetables and salads come from their 4,000sqm organic vegetable garden, picked on the same day for the freshest "field to fork" taste at their Garden Grill Restaurant. Blue Gum Estate where you can dine at the restaurant or try out one of their new picnic options.
Carry on with the road and you'll reach Stanford Valley Manor House with the Manor House Restaurant. Crisp white table cloths, dreamy views and a seasonal menu.
Hop back in your car and keep heading out towards Caledon (keeping your eyes peeled for some incredible birdlife along this route including Blue Cranes in season,) and you'll find Boschrivier Wines on your right. There is a coffee shop on the estate serving breakfasts & light meals.
From the back of the village, you can head out towards the Hermanus Lagoon on the Wortelgat Road, here you will find Springfontein Ulumbaza Wine Bar(n). Along with wine tasting the kitchen offers a "Bits and Bites" menu to accompany their wines.
Next door to Springfontein you'll find the Spookhuis Cottages with 'The Clubhouse' -located in the historic 1892 Spookhuis itself, serving breakfasts and light lunches (please call ahead).
Take Away Foods:
* If you like your food hot and on the go, don't miss out on a takeaway from our village's very own Food Truck – Calories. Find them next to the NG Kerk 7 days a week!
* The Stanford Saturday Morning Market at the Stanford Hotel, and the Stanford Junktique (also Saturdays in the Tourism Courtyard) both sport locally made yums so stock up and picnic along the river or in your quaint holiday cottage's garden.
* The Stanford Sunset Market is a monthly evening shindig held on the village green and a perfect spot to taste food from Overberg foodies and also explore the Stanford Wine Route without walking more than a few meters.
* Ou Meul's pies and baked goods are legendary.
* Jolly Rooster offers their menu as a takeaway option too
Kids Play Areas:

Ou Meul
The Grill at White Water Farm
Blue Gum Country Estate
Stanford Hills
Zesty Lemon
Birkenhead/Walker Bay Estate
Boschrivier Wine Estate
Stanford and surrounds have an abundance of delectable foodie delights just waiting to be discovered this Summer. Pull up a chair and join us this #stanfordusmmer.
* Please call ahead should you be unsure of a restaurants opening times as times may vary with season. To avoid disappointment book in advance as it's looking to be a busy summer.
Browse Stanford restaurant listings here